5 Factors to Consider When Choosing a Physiotherapy Clinic in Kolkata
Last updated on by MRC
---
There are lots of physiotherapy clinic in Kolkata & it's very hard to choose the best. Read this guide which help you to find the best physiotherapy clinic.
According to WHO (World Health Organization) stats, India should have one physiotherapist for every 10,000 residents. Given the Indian population, India needs approximately 1.4 lakhs physiotherapists.
With so many options available, it isn't easy to choose the best for your requirements for Physiotherapy in Kolkata. Like all other healthcare professionals, physiotherapists are also bound by strict service standards and have varied specialities. The choice of a good physiotherapist is crucial whether you have a particular medical condition or have sustained an accident. If not carefully chosen, a physiotherapist may cause therapy delays, higher costs, and even frustration. Your chosen physiotherapist should be able to comprehend your health situation and establish therapy objectives.
Factors to Consider When Choosing a Physiotherapy Clinic in Kolkata
There are various physiotherapy clinics in Kolkata. You should select the physiotherapy clinic that is best suited to treat you. Here is a list of 5 factors to consider when choosing a physiotherapist for yourself or a loved one.
1. Qualifications
As with any other health practitioner, confirming that your physiotherapist is genuinely licenced and certified is crucial, ensuring they are up-to-date on the latest provisions and training in the field. The physiotherapist must have a master's degree in physiotherapy and pass an exam to work as a registered physiotherapist. Make sure you check your physiotherapist's qualifications before your treatment begins.
2. Expertise and Experience
Physiotherapists have several specializations. Therefore, inspecting the area of expertise of your physiotherapists is vital before starting the treatment. Physiotherapy clinic in Kolkata offers services in different areas of specialization, such as geriatric, paediatric, orthopaedic and many more. So, if you have back pain, consider seeking help from a musculoskeletal specialist.
It would be best if you also learned more about the physiotherapists' years of experience. How long the clinic has been operating, the specializations they offer to have an in-depth knowledge prior to your selection.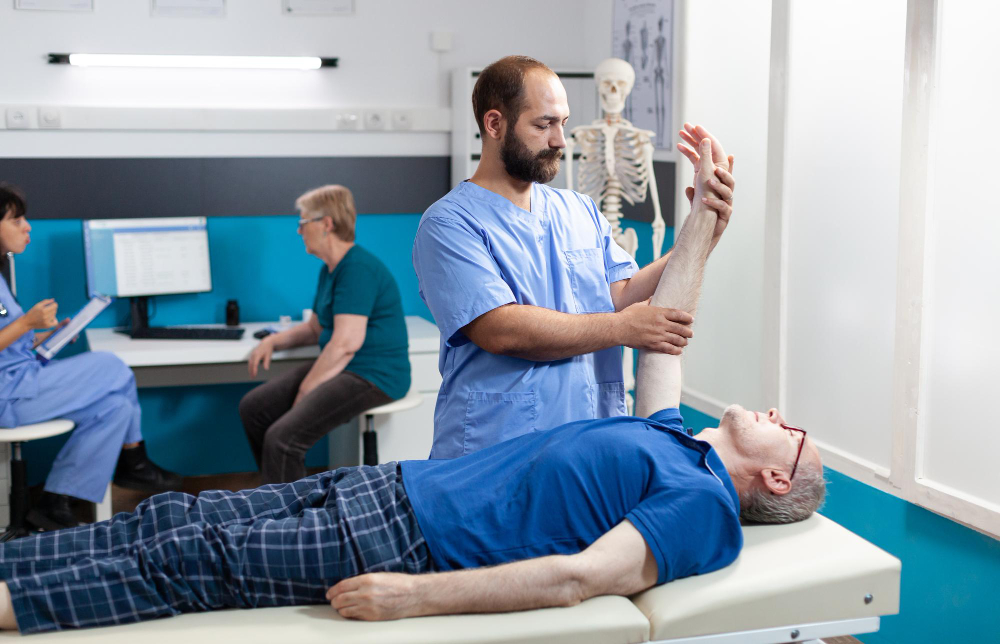 3. Treatment Methods
The field of physiotherapy is well-established, with numerous treatment approaches supported by scientific research. A reputed physiotherapy clinic in Kolkata will include a personalized therapy plan to ensure you have a quick road to recovery. While many physiotherapists use traditional methods such as movements and massages, modern techniques, such as shockwave therapy, reflexology, hydrotherapy, dry needling, acupuncture, and many more, are used these days.
4. Reputation
When choosing between several physiotherapy clinics in Kolkata, you must also consider the clinics' reputation. Therefore, before finalizing the physio, research what other similar patients have to say about the treatment. A decent physiotherapist clinic in Kolkata might have provided high-quality service and treatment to their patients.
You can read about past reviews and check the patient ratings about the physiotherapy clinic as well as physiotherapists on google to have a rough idea.
5. Location
Finally, another critical factor to consider is the location of the physiotherapy clinic. The location should be a significant factor if you desire a long-term treatment plan. Driving or moving vast distances is not advisable when you have musculoskeletal issues or are recovering after surgery. Although you should prioritize accessibility and distance to your physiotherapist, ensure all other prerequisites are fulfilled first.
In the end, we understand it is a tough decision to choose a trusted physiotherapy clinic in Kolkata. Therefore, considering the above factors will help you make a thoughtful decision.
Providing 21 years of dedicated service, Medical Rehabilitation Center is an initiative by Dr M.M. Ghatak, an MBBS, MD Cal and Chief Consultant in MRC, to heal patients passionately. Located in the centre of Kolkata, MRC is well connected and accessible for the patients. The popular services that MRC specializes in are Stroke Rehab, Spinal Rehab, Brain & Spinal Cord Rehab and Pain Management.
Book a Free Consultation with MRC now.